Project Process
Rarely are two projects the same and as we are dealing with human expectations, different work spaces and building locations it is fair to say that there is no perfect project model.
Every project and client requirement is different and the project process will be modified to suit your needs and preferred methods of working.
During the initial consultation meetings, the project processes and stages will be agreed with specific objectives and timescales identified against the critical path of the project.
Our unique approach in delivering commercial interiors has been greatly appreciated by our clients, where the same team that carries out the pre-contract process also delivers and executes the project through to handover. This provides project continuity and ensures nothing is lost in translation.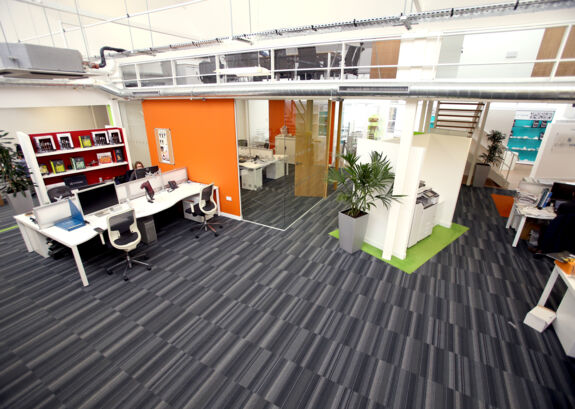 We follow a process on every job no matter if its big or small:
By undertaking an in depth study of your existing workspace we can fully understand how your business currently functions as well as discussing your future needs. This will enable us to create proposed solutions for your new or refurbished space providing better and more efficient ways of working.
By providing space plans and budgets at an early stage this will enable you to do a test fit against the brief for initial review. Once the high level proposals are agreed in principle, the team can then start working on the detailed design scheme and required infrastructure alterations to deliver your project.
Interior Design & Fixed Pricing
With a space plan agreed our design team can work closely with you to establish a look and feel that puts your own stamp on the project. In parallel with this design process the Project Manager will be working on the detailed specification of works in order to provide a fixed cost proposal to suit your project budget.
Build (Project Management)
Once the design, specification and finishes are signed off, undertaking the role of Principal Contractor and Designer, we can plan the start of your project. This will typically involve assistance with gaining Landlord approval, taking on the statutory Health & Safety responsibilities and starting the Building Regulation approval process. Once these are all in place we can commence the construction phase with our project and site management team ensuring ongoing safety and quality.
With over 25 years of experience our project managers are able to put together a concise logistical plan. Whether taking existing furniture, providing new, or a combination of both we will ensure your relocation is tailored to your exact needs. Being an independent company ensures we are able put forward the correct furniture solution for your project. Providing a full move management service we will work closely with your IT and Office Managers to deliver a seamless relocation to your new office or the unveiling of your newly refurbished workspace.
Post Occupancy Support (FM)
On satisfactory completion and handover of your project you will be presented with a full set of Operation and Maintenance manuals providing you with all the information, certification and service schedules for you to safely occupy and look after your workspace. Workspace FM will also provide a bespoke Facilities Management proposal, to look after your workspace on your behalf, allowing you to do what you do best and run your business. This will include scheduled planned maintenance,
a reactive maintenance service and the compliance testing of all your electrical and life safety systems.
To discuss your office requirements in more detail…
Please tell us a little bit about your requirements and we will be in contact to discuss the options available
This data will only be used by Workspace Interiors Ltd for processing your query and for no other purpose